Are you Carnival?
Carnival people are proud of their work, where they come from and are committed and passionate about our guests and our brand. Our crew is fun, hard-working and aim to deliver the best value and vacation experience to our guests.
Each person is dedicated to preserving the environment, the safety of our guests and crew, and living by our Carnival Values. If you are passionate, dedicated and have a strong work ethic, you are a good fit for Team Carnival!
Our people
For those who are ready for an adventure, working at sea is an exciting opportunity where you'll get the chance to travel the world and build friendships with some of the most talented people.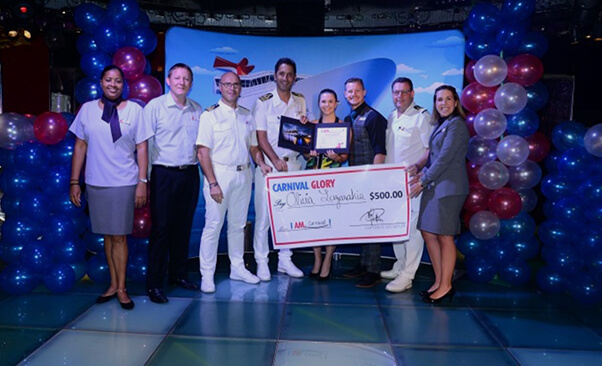 I AM

Program

For their hard-working ways, our crew deserves some praise! On a monthly basis, team members who consistently bring the Carnival Values and Culture Essentials to life are publicly recognized and rewarded. Embodying our core values and bringing them to life through your actions and behaviors will get you nominated as Team Member of the Month, Leader of the Month or HESS (Health, Environment, Safety and Security) Champion.

Each category is always full of impressive team members; however, there can only be one winner from each category. The winners are honored, along with the nominees, at the "I AM" Celebration and presented with their monetary incentive, vouchers, and bonus time off.
Service Award Program
Our way to show our thanks to all team members for their dedication to Carnival is to formally recognize each milestone reached through our employee service pins and awards program. It is one of the ways we celebrate our team members and their dedication to our company.
Pins and awards are presented to team members in five-year increments beginning with the fifth year of service. Each award is presented by the Captain, Chief Engineer, Hotel Director and HR Director and of course the supportive fellow team members. It is a wonderful opportunity to reflect on the many years spent with Carnival and to celebrate being part of the Carnival family.