Working and Living On Board
For those who are ready for an adventure, working at sea is an exciting opportunity where you'll get the chance to travel the world and build friendships with some of the most talented people.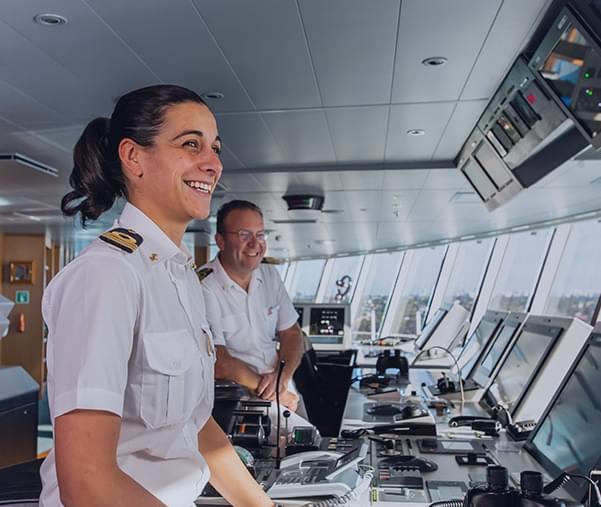 Life On board Our Ships
Living and working at sea is a unique experience. As you can imagine, Shipboard jobs require hard work – approximately seventy hours over seven days. All your effort pays off. We can guarantee that this will be one of the most amazing and rewarding experiences you'll ever have. Between fulfilling any dreams you may have of traveling the world and making new friendships, we do everything we can to make your time on board positive and enjoyable – so that you'll look forward to coming back!
Our contracts vary from three to nine months, depending on your position, and each contract is automatically renewed upon successful completion of your current one. When you receive your formal offer letter and contract, you will receive details of your contract length. Don't worry, it's not all work and no play – we are known as the fun ships after all! You will enjoy time off to explore our beautiful destinations and ports of call, and we'll make sure you'll have clean and comfortable accommodations to rest and relax.
On board you'll also have access to:
Dedicated chefs creating a rotating menu of international dishes
Well-equipped crew-only gyms
Top-notch medical services
A great crew-only lounge and internet café
An array of crew-organized and led activities like bingo, karaoke and more!
The Benefits of a Career at Sea
There are plenty of benefits to working with Carnival – some that can't be found anywhere else!
Crew Training Center

– A multimedia learning lab with over 5,000 learning resources available to all team members on board.

Expenses

– You'll have little to no expenses.

Work Environment

– All our ships are safe, positive, and most importantly FUN!

A Second Family

– The bonds of FRIENDSHIP are unlike anything else and tend to last a lifetime.

Travel

– Working with us means getting paid to travel the world!